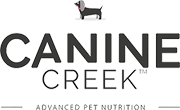 Canine Creek focuses on developing products made with the finest natural ingredients resulting in grain-free, gluten-free formula that retains the potency of nutrients.
We can't find products matching the selection.
Compare Products
You have no items to compare.
My Wish List
Last Added Items
You have no items in your wish list.